Please Note:
It is the purchaser's responsibility to vett products on this website. The OHS does not vett any items advertised on our website. Please have awareness when buying or selling anything on the internet.
Details
For Sale PEDAL Harp: Salvi - Orchestra model
Harp: Salvi Orchestra model
Strings: 46 strings - 7th octave D to 0 octave G
Wood: piano black
About: 46 String Salvi Orchestra Harp with straight soundboard and piano black finish. This harp is ideal for serious students or smaller adults. The harp is in excellent condition. It is gorgeous in person​ and has a lovely warm tone. My daughter is the second owner and bought it from her harp teacher in 2015 after it had been fully refurbished by Salvi technicians in Italy.
Harp - Asking: CAD$12,500

Cover & Trolley: 3-piece set of Salvi soft covers and an aluminum harp Trolley are also for sale. Both are rarely used and in excellent condition.
Cover & Trolley Asking: CAD$500

Located: Toronto
Contact: This email address is being protected from spambots. You need JavaScript enabled to view it.
(Listed: June 2023)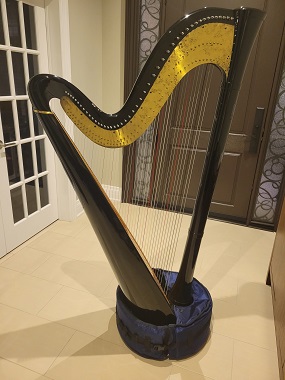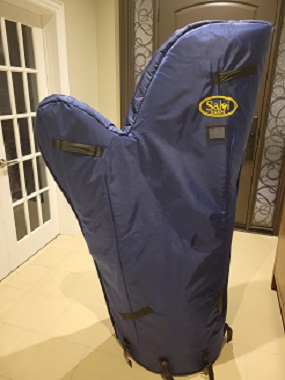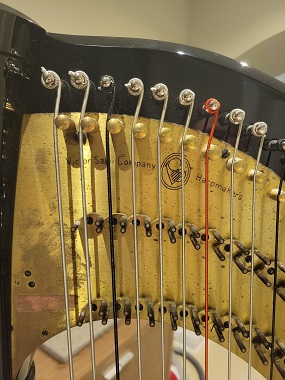 Details
For Sale: DOUBLE STRUNG Harp: Dusty Strings - FH26
Harp: Dusty Strings FH26 Double Strung Harp
Strings: 26 strings per side 3 1/2 octaves
Levers: Full set of Loveland Sharping Levers
Wood: Figured cherry wood
Age: 3.5 years
About: Lovely figured cherry wood harp with set of four removable legs and deluxe case. It has a medium tension with a bright sound. The owner is an experienced harpist on the FH36 single strung harp sadly is in need of a shoulder replacement. This beautiful harp needs to be played. The price today on Dusty Strings website is $4,485 US.
Includes: Includes music books and extra strings.
Located: London, ON
Asking $5,500 CAN
Contact: Gail
(Listed: March 2023)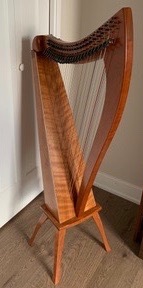 Details
For Sale/Rent: PEDAL Harp: Lyon and Healy - Style 2000 CG
This harp is for sale OR for rent.
Harp: Lyon and Healy - Style 2000 Electro-Acoustic Concert Grand
Strings: 47
Finish: gold/black
Age: 25-30
About: Beautiful, well taken care of Lyon and Healy Style 2000 Electro Acoustic CG pedal harp. Wonderful and full sound. Current owner is an event and orchestral harpist- the Style 2000 has a lovely sound in either ensemble or solo environments.
Rental Includes: Trolley, 3 piece soft case, tuner, and extra strings
Purchasing Includes: Extra strings and three piece Salvi CG Soft Case
Located: Ottawa
Contact: Peter
(Listed: January 2023)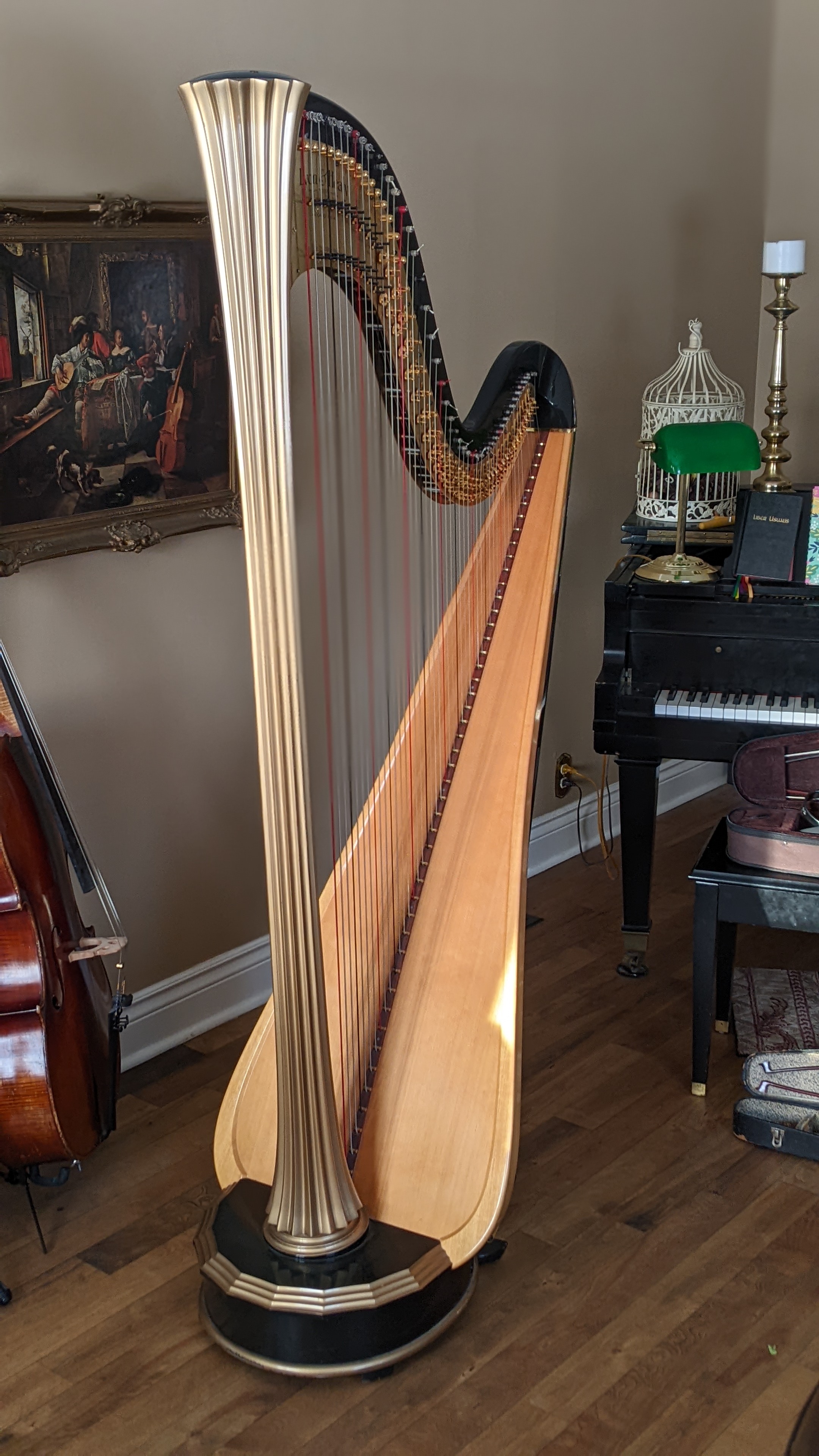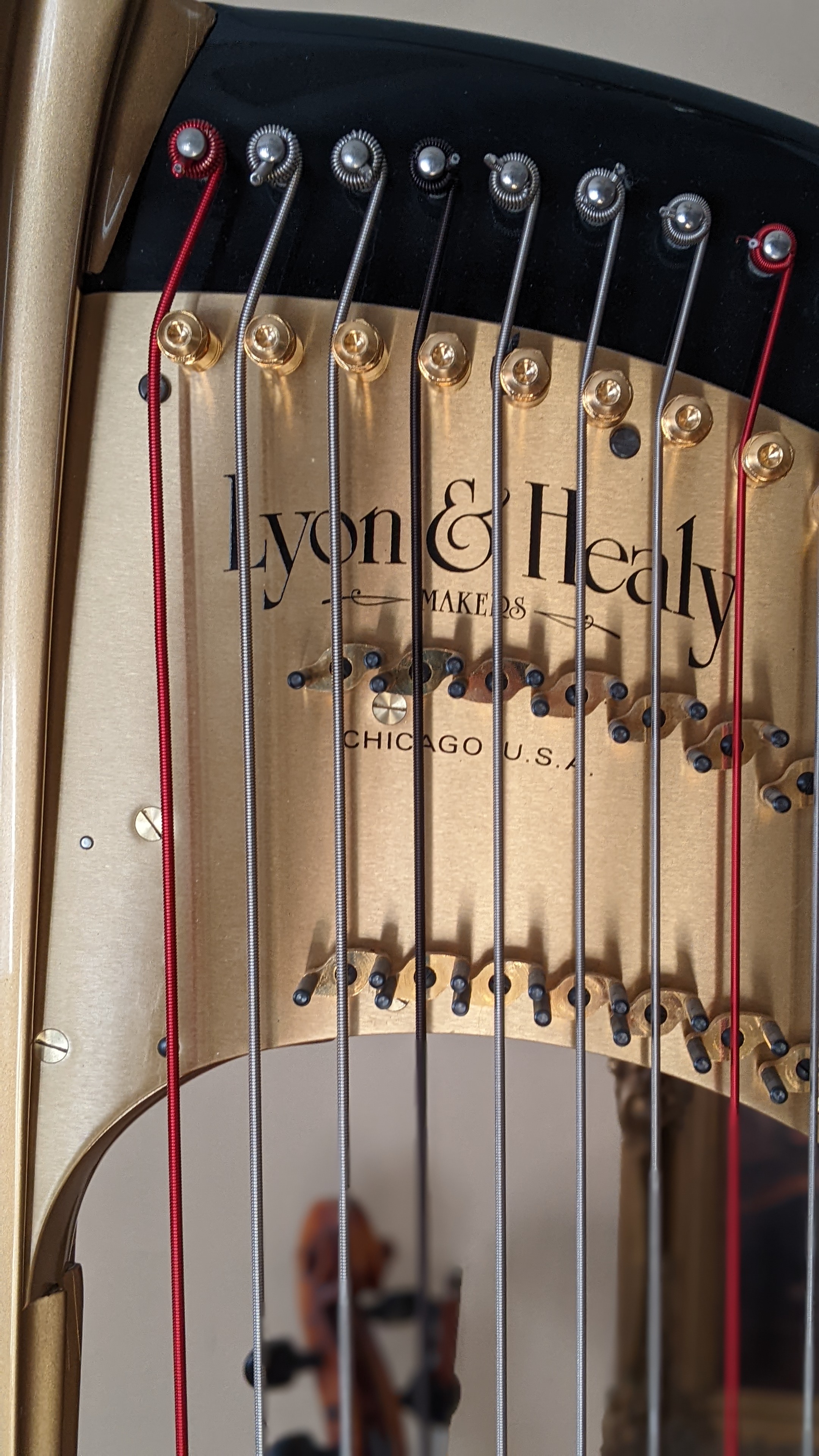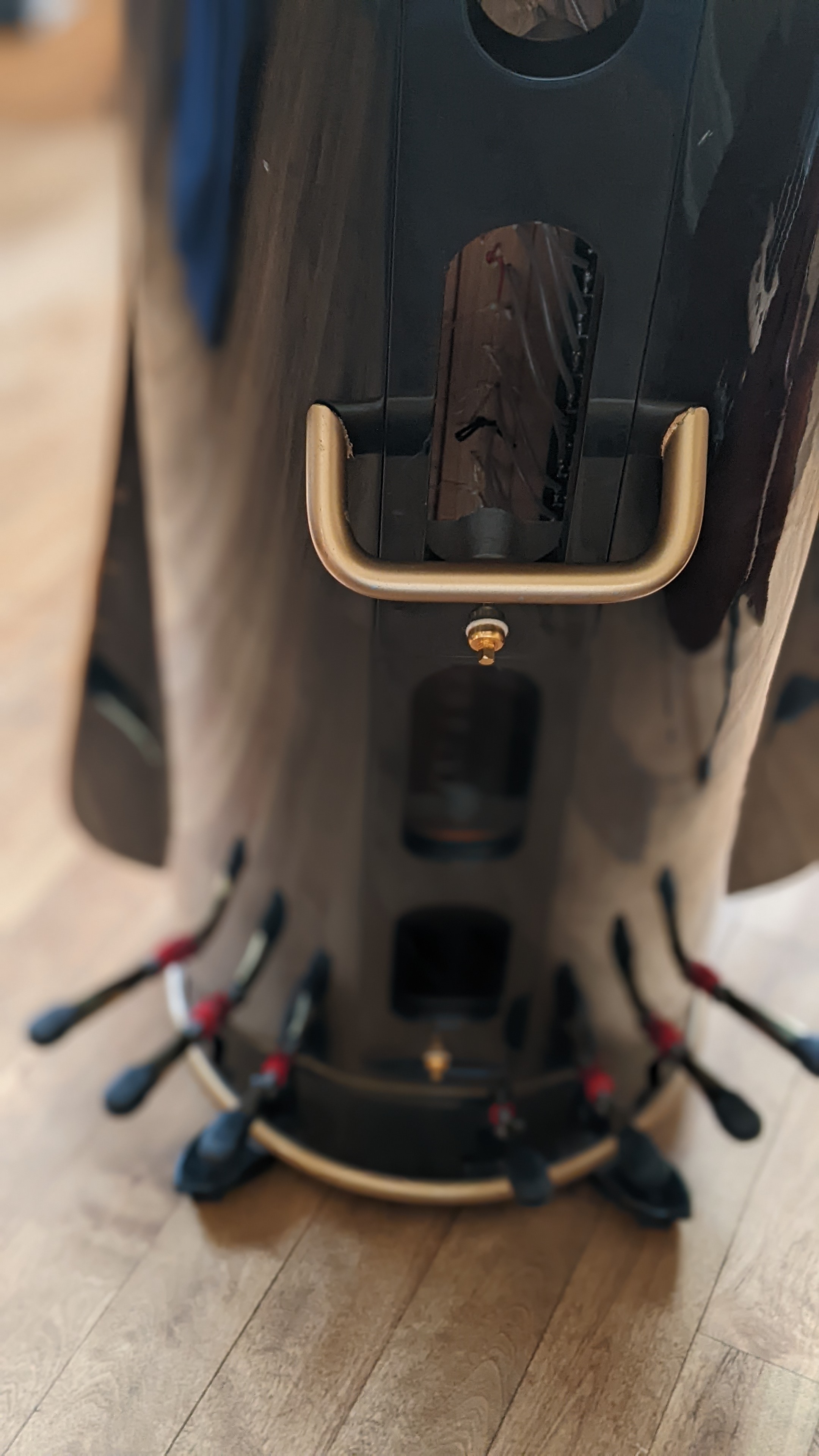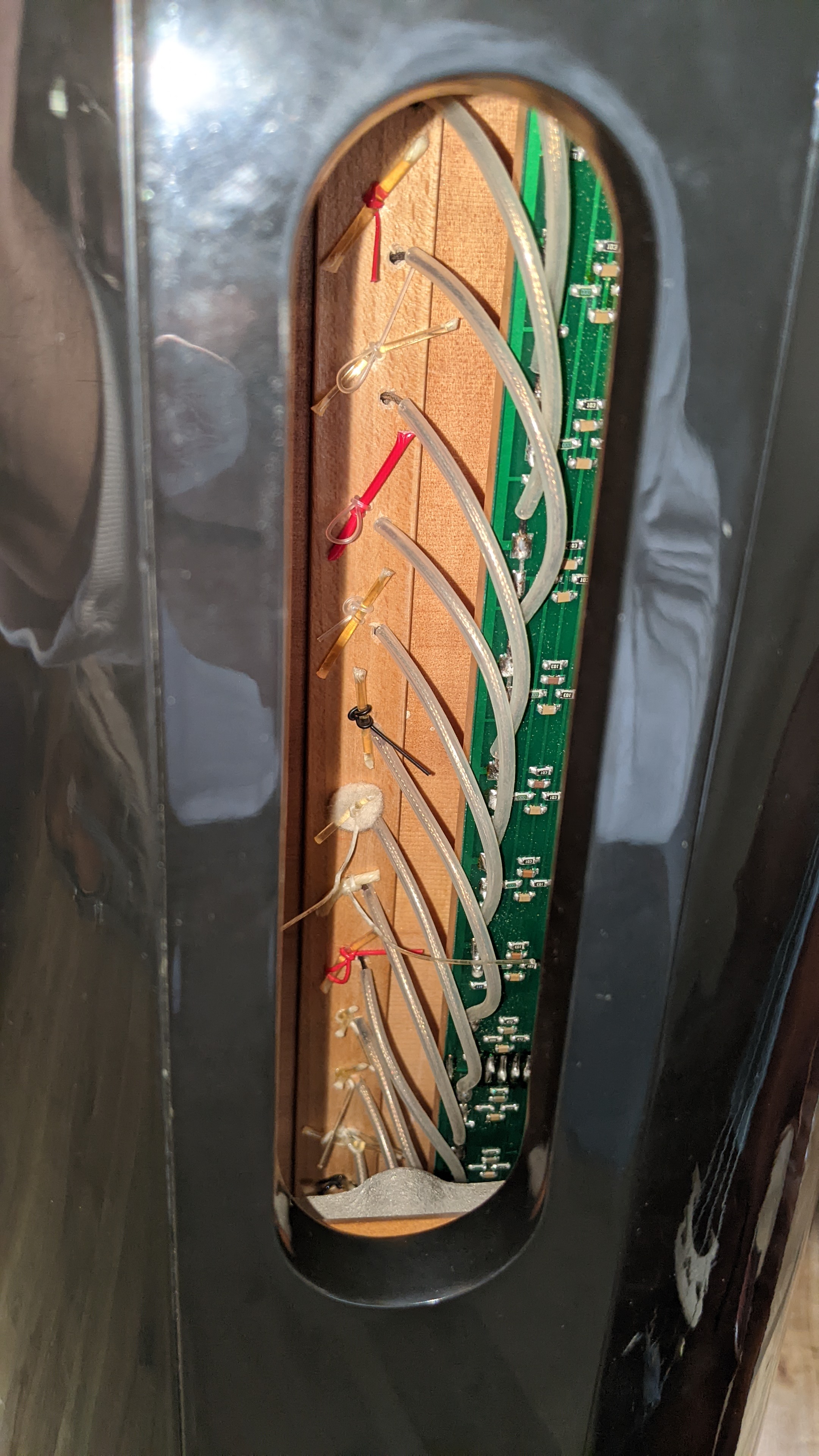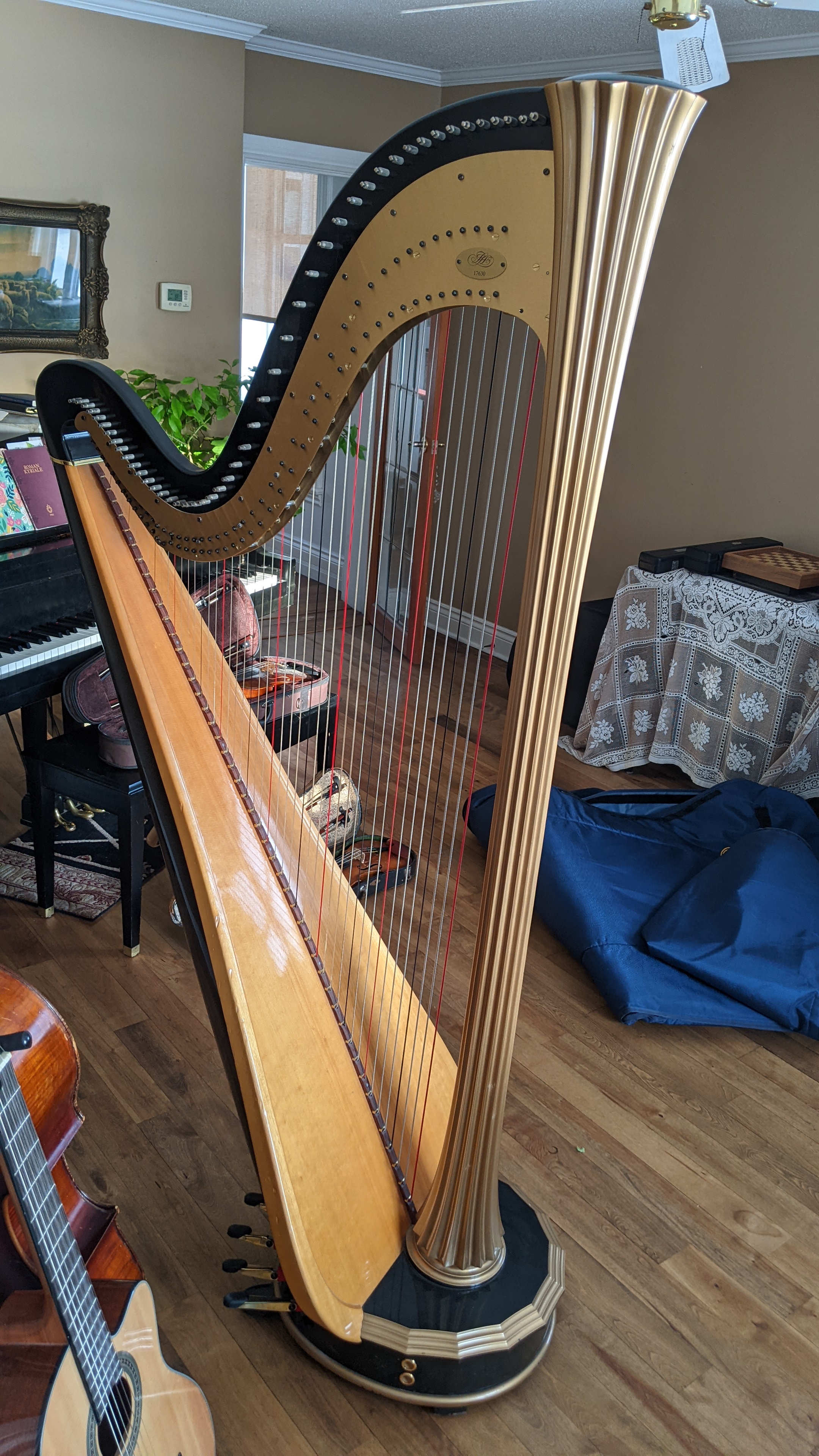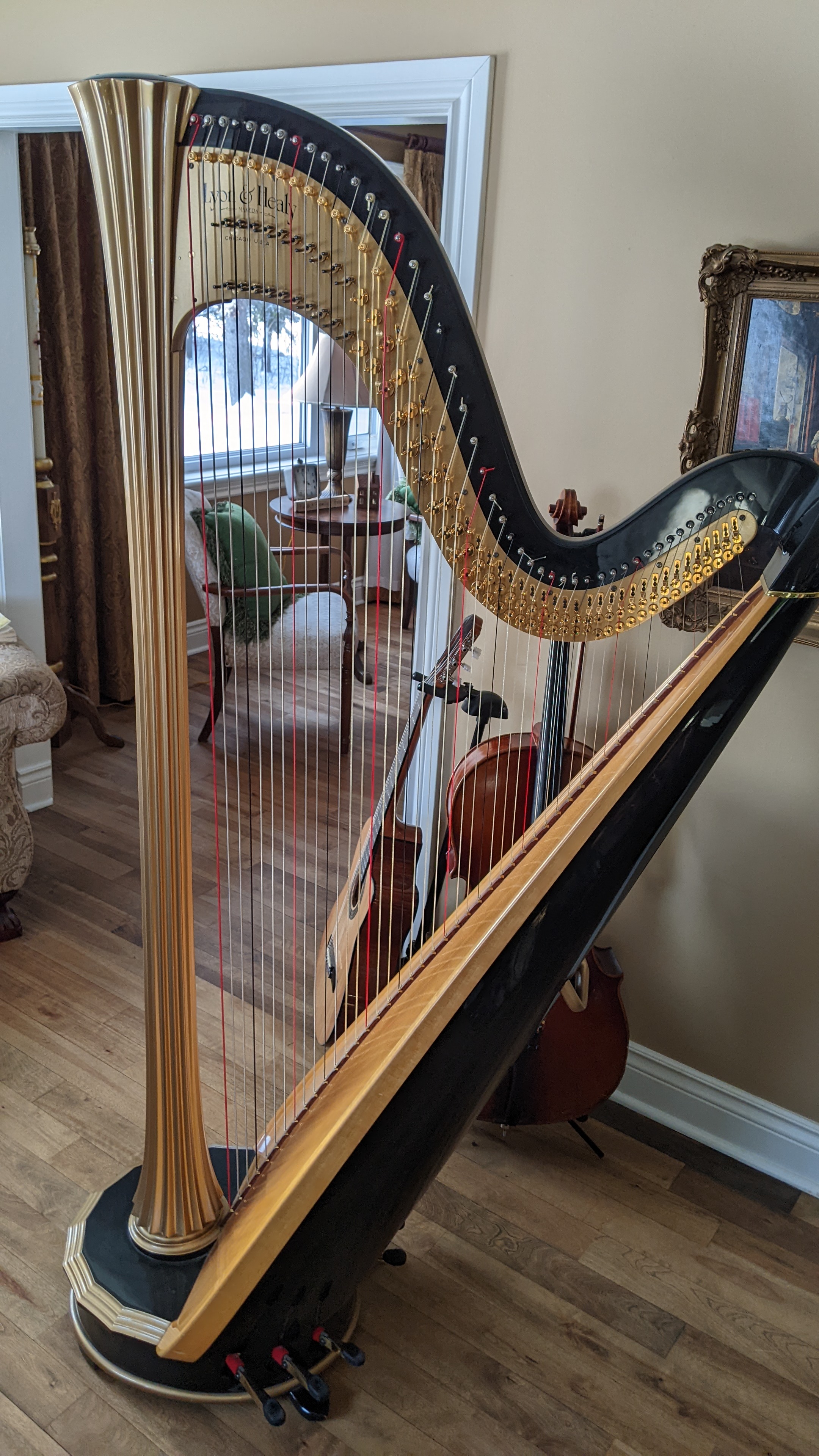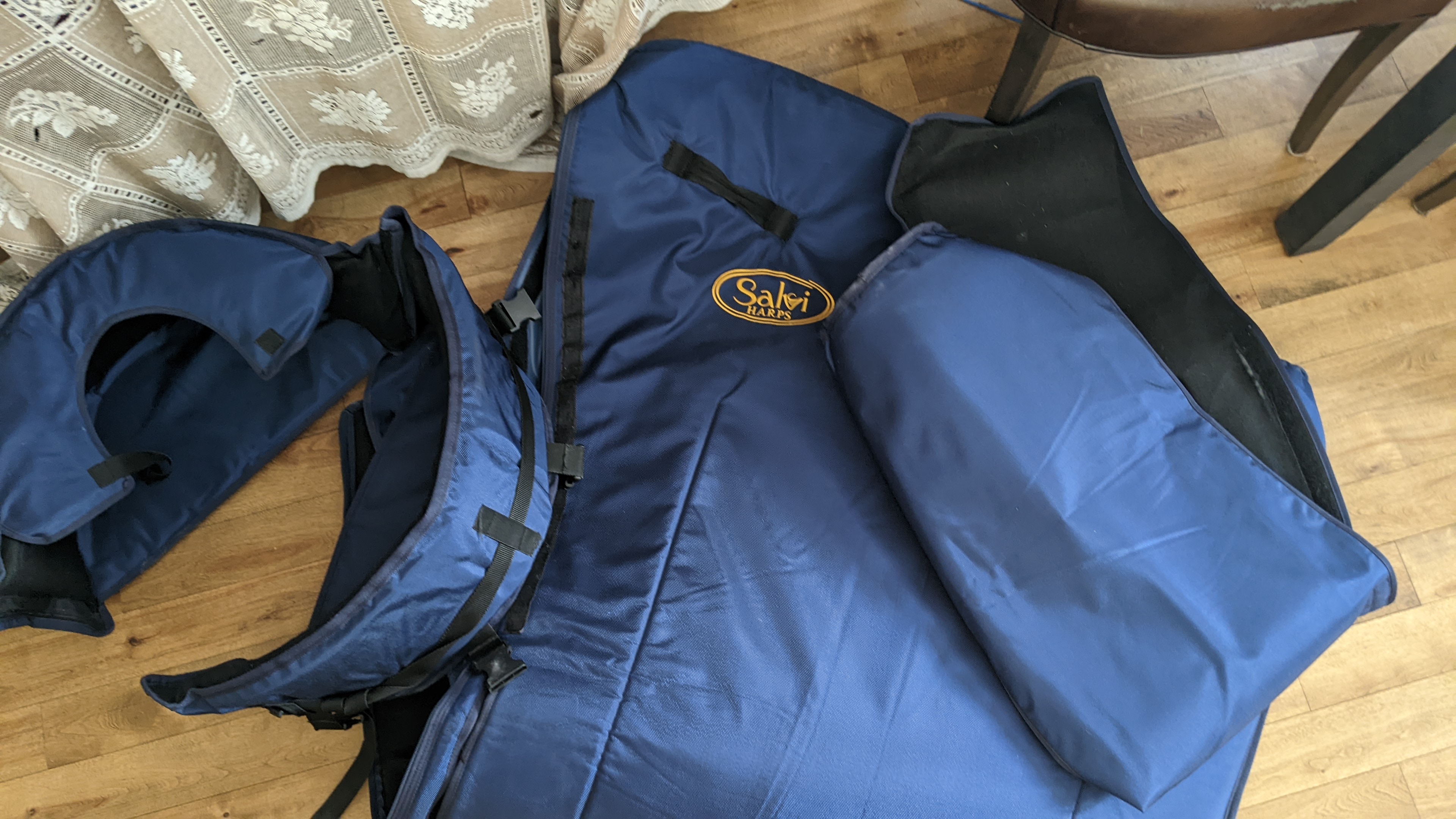 Details
For Sale LEVER Harp: Lyon & Healy - Prelude
Harp: Lyon & Healy Prelude 40 with a crown on the column
Strings: 40 strings
About: Excellent condition. Exceptional sound quality, resonant and rich
Includes: Harp, fabric cover, tuning key.
Located: Québec City, QC
Asking: $7,000 can
Contact: This email address is being protected from spambots. You need JavaScript enabled to view it.
(Listed: October 2022)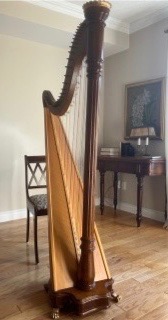 ---
Details
For Sale LEVER Harp: Timothy Harps - Storm King
Harp: Storm King lever harp crafted by luthier Timothy Habinski of Timothy Harps, Nova Scotia
Strings: 40 string / range F-C
Levers: full Camac levers
Weight: 25 lbs
Height: 56 inches
Age: Built in 2019
About: This beautiful 40-string walnut harp is in pristine condition – has been played regularly and remained at home in a humidity controlled environment. Powerful, responsive sound with clarity throughout its range. Fabulous bass. Will send additional photos upon request.
Included: An installed pickup and an extra set of strings, as well as the deluxe carrying case and the tuning key.
Located: Kingston, Ontario (Prefer not to ship)
Asking: $5,000 CAD
Contact: For serious inquiries contact This email address is being protected from spambots. You need JavaScript enabled to view it.
(Listed: July 2022)


---
Details
For Sale PEDAL Harp: Lyon & Healy - Style 15
Harp: Lyon & Healy Semi Grand Pedal Harp Style 15
Strings: 46 strings / 7th octave D to 0 octave G
Soundboard: width 15"
Wood: body + neck, fluted gold leaf column, bronze finishing, gold detail on soundboard
About: Excellent condition / Inspected, restrung, regulated and new felt pads by Lyon & Healy technician / Excellent condition / Exceptional sound quality / One owner
Includes: Harp, L&H canvas padded cover, L&H hard travel rolling case (interior needs some reconditioning), L&H rubber covered tuning key
Located: midtown Toronto
ASKING: $18,000
Contact: This email address is being protected from spambots. You need JavaScript enabled to view it.
(Listed: May 2022)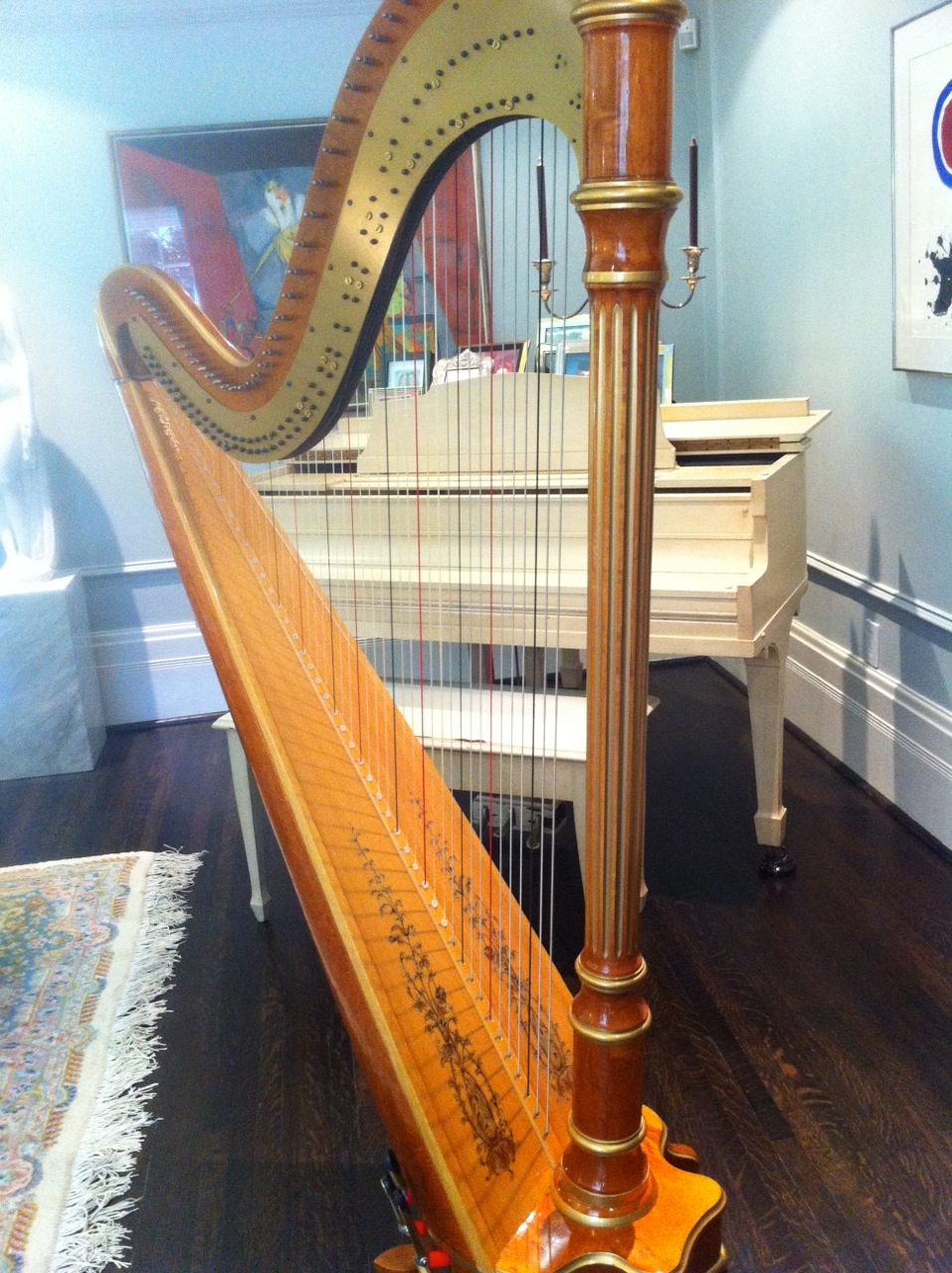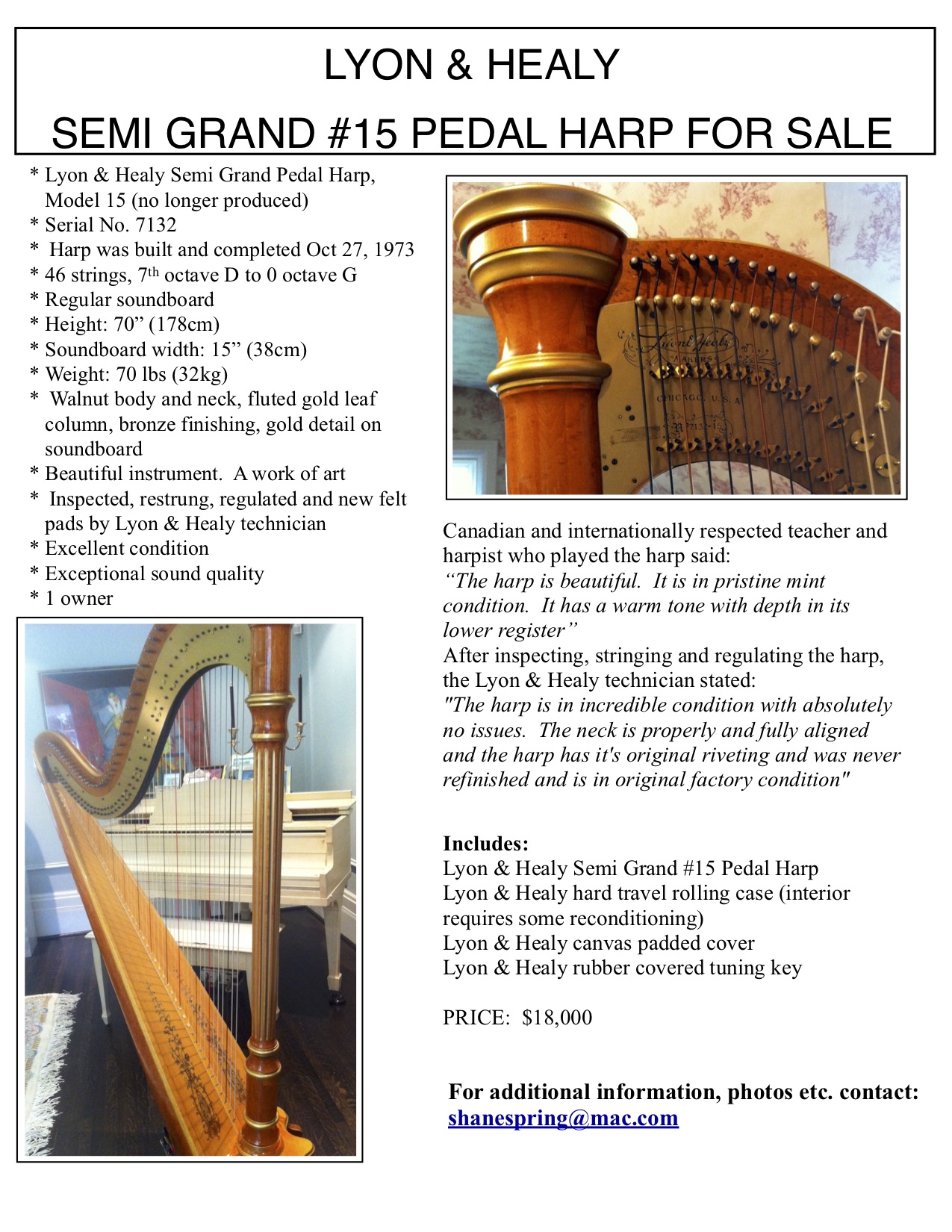 ---
Details
For Sale LEVER harp: Lyon and Healy - Prelude
About: Beautiful instrument lovingly played. In good condition
Wood: mahogany
Located in: Oakville, ON
PRICE: $4500
Contact: This email address is being protected from spambots. You need JavaScript enabled to view it.
(Listed: August 2020)
---
Details